500 Classic TT 2017 - Triumph / Weslake 500
Challenging the Big Boys!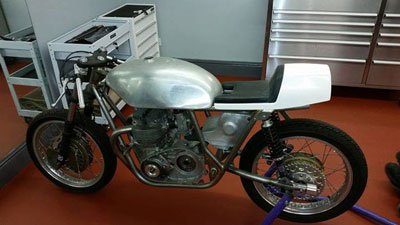 After years of success with the big RGB, we're setting ourselves the challenge of achieving the record for the fastest push-rod twin around the Isle of Man TT circuit.
We've decided to have a go at the 500 Classic TT in 2017 with a short stroke Triumph / Weslake engine with a 6-speed TTI gearbox, in a Rickman / Metisse chassis. The picture shows the bike at an early stage of development.
The bike's development is well underway and we had hoped to enter the 2016 race with the impressive rider Ryan Kneen, whose successes include winning the 2015 Formula 2 Classic TT race on a TZ250 Yamaha. Unfortunately, however, Gary has developed some health problems that will keep him out of action for a few weeks. As this would not give him time to complete the preparations for this year's event, he has decided to target the 2017 meeting instead so that he can make a full recovery. 
We have received a great deal of valuable support, initially from Pete Tyer of Suites Hotel in Knowsley, Liverpool, and since then from quite a list of others, which has really spurred us on. We would be interested to talk to other potential sponsors, who would be sure of plenty of coverage for such an interesting combination of rider and machine.
Sponsors
Pete Tyer of Suites Hotel in Knowsley, Liverpool
Sean Seddon, Deeside
Martin Sturge of CMA Chester Ltd
Alan, Jonny and staff of Wrexham Motoring Supplies
Richard Hughes of Wingetts Estate Agents and Auctioneers, Wrexham and Llangollen
Ann Anglesea of Delmar World, Gresford
James Osborne of OS Freight, Wrexham
John Hughes, Chester
Thank you also to David and Nicola of The Trevor Arms Marford and Jill of The Essentials Magazine for your support with our fundraising event organisation.